Gastronomy
For feasting
There'll be no need for a heated discussion over which Raclette to choose! Both are served: Swiss and French. This is one of the plus points of a region without borders. A little tip, don't go saying that one is better than the other! You'll be spoilt for choice!

More than 90 high-altitude restaurants line the Portes du Soleil ski slopes, from the small farm inn to the gourmet restaurant.

2 AOP otherwise nothing!

In France, it's in 2017 that the Raclette got a PGI, Raclette de Savoie.
On the Swiss side, Raclette has been distinguished by a Valais PDO since 2003. So to be sure that you are choosing top quality, ask for a Valais PDO or Savoie PGI Raclette! A valley, a cow, a cheese! In the Vallée d'Abondance, make sure you don't leave without having tasted Berthoud !

This typical recipe is based on the PDO Abondance, a legendary cheese linked to this place whose name it bears. It is here, on the tracks that you will certainly take, that in summer, the cows of the same name graze in the pastures! Moreover, don't hesitate to chat with a tracker or a person working the ski lifts about their profession... They may well be a farmer!

To prepare for your gourmet trip:
Snack Le Pleney - Les Portes du Soleil
Restaurant situé au sommet du télécabine du Pléney. Restauration self-service, Crêperie, Plat du jour. Self-service, crêpes.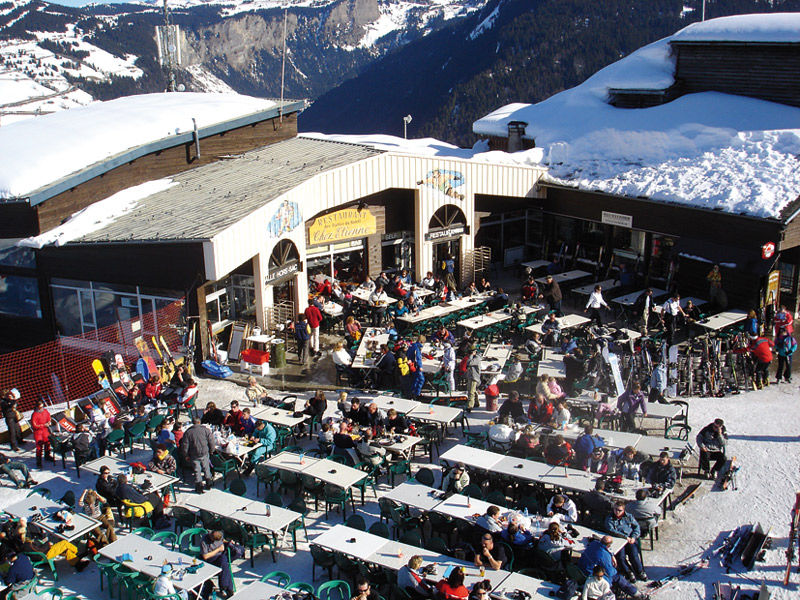 ---
Ce restaurant d'altitude, accessible aux piétons comme aux skieurs, relooké la saison dernière, est toujours animé. On y jouit d'une terrasse solarium avec une vue superbe sur toute la chaîne de montagnes. Le matin, le petit déjeuner y est divin, à midi le self donne le choix entre plat du jour, omelettes, salades, viandes, burgers ou spécialités. Côté douceurs : tartes myrtilles ou framboises, crêperie... Le soir, on se sent sur le toit du monde, avec les lumières de la vallée ! A noter :
:
Le Pleney, 74110 Morzine
---
Du 27/06 au 06/09, tous les jours de 9h à 17h30.
Du 20/12 au 12/04, tous les jours de 9h à 17h30.
---
---
Retour à la liste