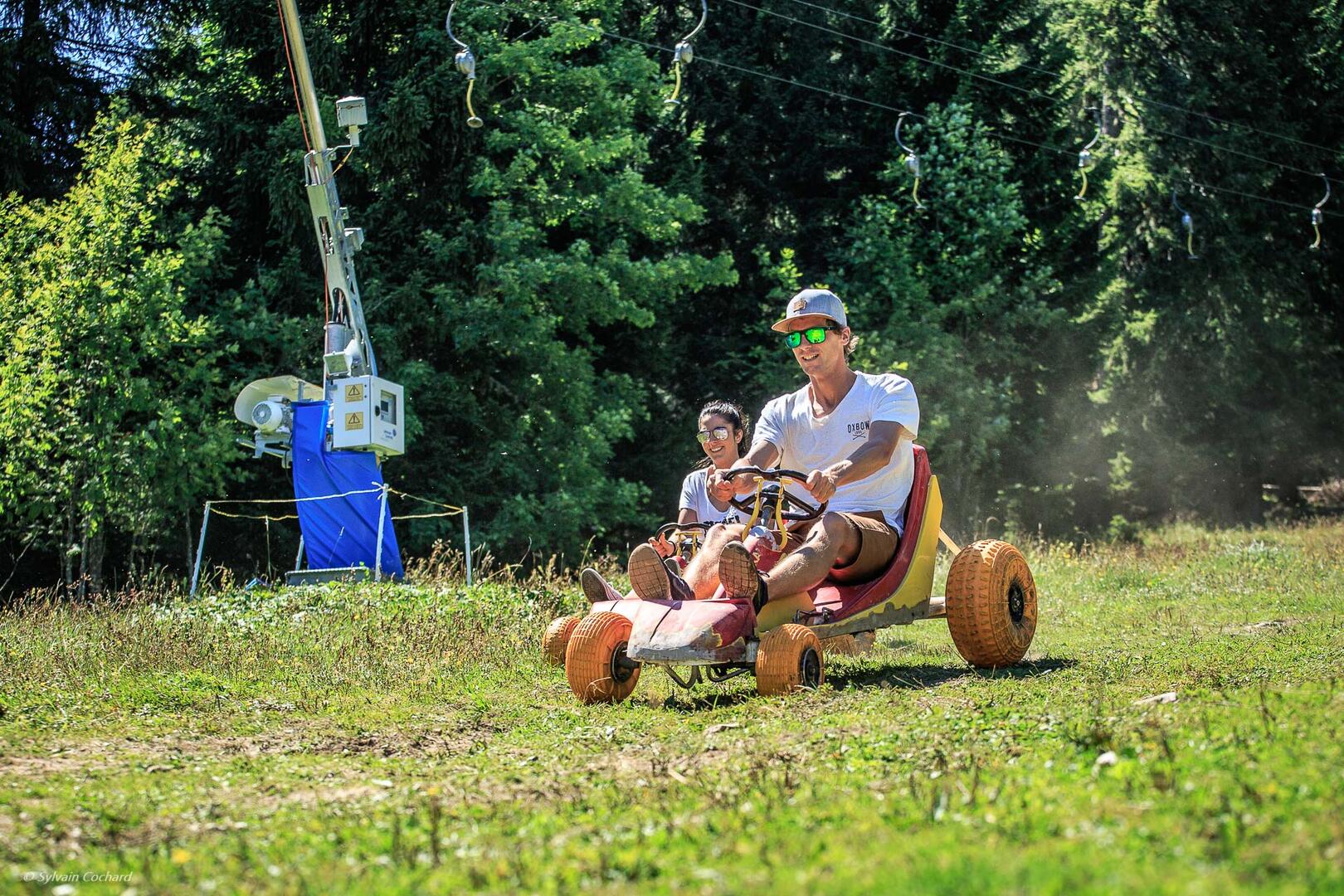 Déval'kart
Various sports,
Mechanical sports,
Trottin'herbe / Devalkart (grass scooters and go-karts),
Go-karting
in Morgins
Hurdle down the ski slopes all year around on a 4x4 go-cart rigged up especially for rugged mountain terrain!

At the bottom, just hook your cart onto the ski lift and head back up for endless hours of fun.

Available in summer but also in winter - for groups after 5 pm.

Reservations are required, please phone 24 hours in advance.

Children must be 1m35 or taller.
Rates

For reasons of operating costs, the minimum fee is CHF 120.- per 30 minutes or CHF 200.- per hour for a group of less than 5 people.

Up to 5 karts : 30 min = 120.- / 1 hour = 200.- CHF
For 6 karts : 30 min = 145.- / 1 hour = 270.- CHF
For 7 karts : 30 min = 160.- / 1 hour = 280.- CHF
For 8 karts : 30 min = 180.- / 1 hour = 320.- CHF
For 9 karts : 30 min = 190.- / 1 hour = 335.- CHF
For 10 karts : 30 min = 200.- / 1 hour = 350.- CHF
For 12 karts : 30 min = 240.- / 1 hour = 380.- CHF
For 15 karts : 30 min = 280.- / 1 hour = 450.- CHF
Openings

From

April 30, 2023

until

October 30, 2023

* Season opening as soon as the ground is dry. Reservation is necessary, at least 24 hours in advance

* Dates to be confirmed Subject to favorable weather