L'Étape du Tour de France - Teaser 2023
L'Étape du Tour de France - Teaser 2023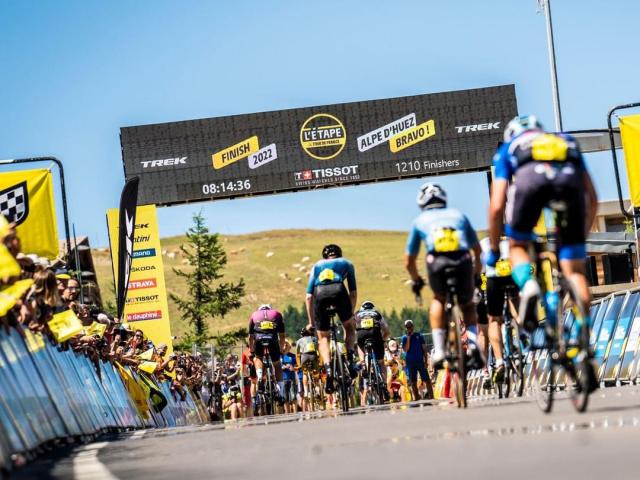 L'Étape du Tour
Enter
the legend
Since 1993, cycling enthusiasts have been able to experience the unique stage of the Tour de France. This cyclosportive offers a mountain stage of the Tour de France each year, allowing participants to ride on the same roads as the professionals. The host cities, mythical passes and race conditions are identical to those of the Grande Boucle.
The 16,000-strong field for the Étape du Tour de France makes it the must-attend event of the season for cycling enthusiasts. The routes are laid out with the help of law enforcement, local communities and public authorities to offer roads that are completely closed to traffic. Participants can thus enjoy a unique and safe racing experience.
The cyclosportive has established itself as the reference in Europe with 30 editions on the clock. Participants from all walks of life come together every year to enjoy this unforgettable sporting experience. The mountains of the Tour de France are a challenge for amateur cyclists, who can measure their performance against the professional riders of the Grande Boucle.
In short, the Stage of the Tour de France offers cycling enthusiasts the opportunity to measure themselves against the same challenges as the professional riders of the Tour de France. The roads closed to traffic, the routes drawn in the same conditions as the Grande Boucle and the international peloton that participates make this cyclosportive a unique sporting experience.
#TDF23
The Tour stage
The profile
The 31st edition of the Stage of the Tour de France will be held on July 09, 2023 on the route of the 14th stage of the Tour de France, between Annemasse and Morzine, which is 157 km of road with more than 4,100 meters of cumulative positive elevation gain, including the climbs of the Saxel Pass, Cou Pass, Fire Pass, Ramaz Pass and the Joux Plane Pass.
A hell of a program reserved for the bravest of cyclotourists but one that is sure to leave lasting memories for all the brave ones at the start.
It's impossible not to marvel at the landscapes of Haute-Savoie.
It is also an opportunity to discover the potential of the Portes du Soleil area, a world reference in mountain biking but which is also full of gems for lovers of the little queen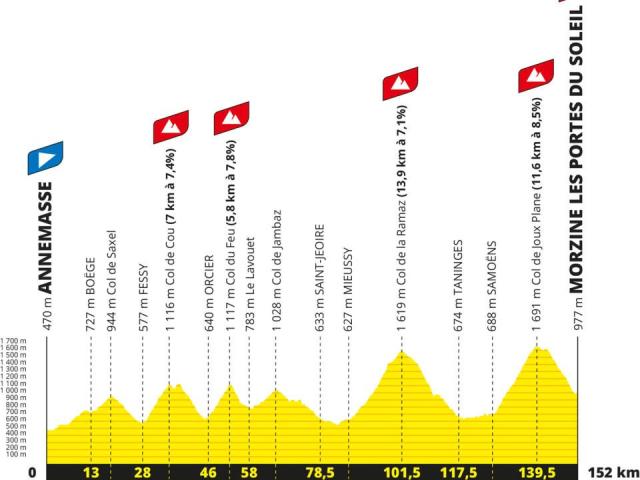 Inspirations
More Bicycles
Are you a cycling enthusiast? Discover even more ways to live your passion in the Portes du Soleil : passes, Bikeparks, itineraries, great events…